Uwell Nunchaku 2 kit including battery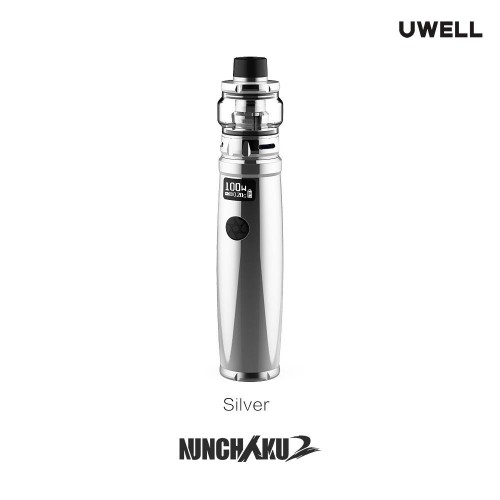 The Nunchaku 2 features a 100W max output and features a range of output modes, not least a 6-axis motion sensor for a cutting-edge feel. Also included is the Nunchaku 2 sub ohm tank which features a threaded top fill system, patented self-cleaning technology and employs the UN2 series mesh coils. This starter kit is intended for intermediate to advanced users.
The 6-axis motion sensor is one of the highlights of the Nunchaku 2, simply flick your wrist to alter or switch between modes or features for a state of the art feel.
An OLED screen displays output modes whilst a large firing button serves to activate, lock and unlock the device for a simple operation.
The BEIN integrated chipset gives access to a range of safety protections including Low Voltage, Short Circuit as well as dust and moisture proof for a secure vaping experience.
Features
100W Max Output
Stainless Steel & Polycarbonate Construction
Ergonomic, Lightweight Design
Large Firing Button
OLED Display Screen
6-Axis Motion Sensor
Power Mode
TCR Mode
Mech Mode
Range Of Safety Protections
2ml E-Liquid Capacity
Self-Patented Cleaning Technology
Pro-FOCS Flavor Testing Technology
Plug and Pull Coils
Dual Adjustable Airflow
Top Fill System
Mesh Coil Build
IN THE BOX
Uwell Nunchaku 2 100W Vape Mod
Uwell Nunchaku 2 2ml Sub Ohm Vape Tank
Uwell UN2 0.2 Ohm Mesh Coil (Pre-Installed)
Uwell UN2 0.14 Ohm Mesh Coil
Pack Of Spare Parts
Micro USB Charging Cable
User Manual
Battery INCLUDED: 1x 21700 battery
This product is nicotine free
Would you like an 18mg Nicshot?
In order to increase the nicotine from 0mg -> 3mg:
- 50ml Shortfill: Add 1 bottle of nicshot
- 100ml Shortfill: Add 2 bottles of nicshots