Watermelon - Valley Liquids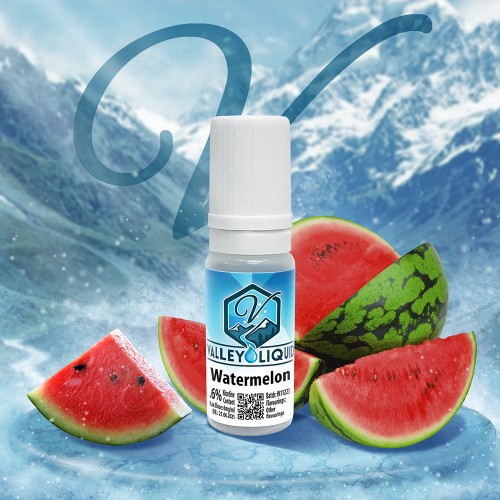 It is highly fruity and flavorful and satisfying for your sweet buds. The fresh and juicy taste of a slice of Watermelon can now be enjoyed beyond the summertime picnic, beach day or BBQ.

All Valley Liquids e-liquids has a 60%VG-40%PG mix, made from the purest Pharma grade Glycerol, and Propylene Glykol. They do NOT contain Diethylene Glycol (DEG) or other solvents that are commonly used in many products; therefore our juice is thicker than the average.
You can choose between 0 mg, 6 mg (low), 12 mg (medium), 18 mg (high) nicotine strength. The e-liquid is delivered in a 10 ml LDPE (plastic) bottle with thin tip for easy filling. It has a childproof cap.
E-liquid is best stored in room temperatures between 10-25 ºC. All nicotine fluids must be kept in a safe place and away from children & pets. In case of an accident, or if you feel unwell seek medical advice immediately.
This product is nicotine free
Would you like an 18mg Nicshot?
In order to increase the nicotine from 0mg -> 3mg:
- 50ml Shortfill: Add 1 bottle of nicshot
- 100ml Shortfill: Add 2 bottles of nicshots